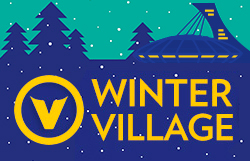 For a sixth year in a row, the Montreal Olympic Park is pleased to announce the return of its traditional Winter Village, in collaboration with the V tv station, with a brand new ice-cold trail, completely free.
Free access

Opening hours* :
December 15 to April 1st
Thursday and Friday: 4:00 to 9:00 p.m.
Saturday : 11:00 a.m. to 9:00 p.m.
Sunday: 11:00 a.m. to 7:00 p.m.
January 13-14 and January 20-21
Spring break
March 5 to 9: 10:00 a.m. to 9:00 p.m.
Rental rates
Skates: $8
Helmet: $3
Support: $3
Padlock: $2
*Schedule subject to change without notice.