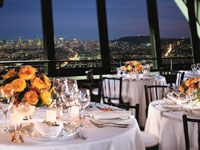 The top of the Tower has three floors. The first is home to an observatory, the second a cocktail lounge, and the third the Salon Montréal. Each of these floors offer a breathtaking view of Montreal. On a clear day, you can see almost 80 kilometres away. Magnificent settings that can be rented for any of your events.
The Salon Montréal is the ideal setting for a banquet, a business reception, a wedding, a training session, a meeting, a press conference or a product launch. It offers an impressive and refined setting that your guests will never forget.
The cocktail lounge is often used to complement the Salon Montréal as the ideal location to enjoy a drink before an event.
Facts & figures of the Salon Montréal and Cocktail lounge (pdf)