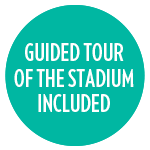 The Since 1976 exhibition will take you on a journey to rediscover the history of the Olympic Park, from its construction to today. The exhibition features a number of artefacts, as well as photos, video archives, interactive digital content, and even reconstructions made to the building. This permanent exhibit is located in the Montréal Tower, and provides a closer look at different aspects of the Olympic Park's history.
Come relive the Olympic Park's greatest moments!
Schedule
Tuesday to Sunday: 10:00 a.m. to 5:00 p.m.
Guided tour departures: 10:30 a.m., 11:30 a.m., 1:00 p.m., 2:30 p.m. and 4:00 p.m.
Monday: closed
*Guided tours canceled on Wednesday, November 8, from 10:30 a.m. to 4:00 p.m.
Rates
Since 1976 exhibition
| | Regular rates | Quebec residents |
| --- | --- | --- |
| Adult | $18.50 | $15.00 |
| Senior | $16.25 | $13.25 |
| Student | $14.50 | $11.50 |
| Child (5-17 years old) | $9.25 | $7.50 |
| Family (2 adults and maximum of 3 children) | $45.00 | $35.00 |
Observatory + Since 1976 exhibition
| | Regular rates | Quebec residents |
| --- | --- | --- |
| Adult | $35.50 | $28.50 |
| Senior | $31.50 | $25.50 |
| Student | $28.00 | $22.25 |
| Child (5-17 years old) | $17.50 | $14.00 |
| Family (2 adults and maximum of 3 children) | $87.50 | $69.00 |