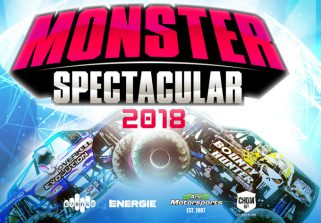 April 7, 2018 at 7:00 p.m.
Arel Motosports in collaboration with Evenko present the XXIV edition of Monster Spectacular, a 3 hour show with no time-outs and non-stop high-speed breathtaking action!
This exciting XXIV edition will feature 15 Monster Trucks! The best North American names will be present, including: the world champion BOUNTY HUNTER. Don't miss the USMRA Champion, AVENGER (Jim Koehler) and the new champion of the rival AMTA circuit (American Monster Truck Association), BLACK STALLION, in a face-to-face duel where there can only be one winner! Also on the program : Freestyle Motocross with the best FMX pilots who will be showing off their skills, attempting a variety of leaps and stunts in midair, and sometimes even flipping completely!
Buy your tickets at parcolympique.ticketpro.ca



By car
P1 underground parking located at 4545 Pierre-De-Coubertin ave. or
P2 located at 4141 Pierre-De-Coubertin ave.
Annual rate available.
Regular rate: $19 per day (or $20 during events at the Stadium)


By active transportation
Bike access via bike paths located on Rachel street, Maisonneuve Park and Bennett street. Bike racks are available just steps from the Centre's entrance. There's also a Bixi station on Pierre-de-Coubertin avenue, near Pie-IX Metro station.


Public transport
A 2-minute walk from Pie-IX metro station (green line) as well as stops for busses 97, 139 and 439.


Access for people with reduced mobility
The Stadium is accessible to people with reduced mobility, and sanitary facilities have been adapted to accommodate anyone who uses a wheelchair.