VANS SKATEPARK
Publié le 23 August 2021
Esplanade
Free access to the Vans skateboard park

Open
The Vans skateboard park, of international caliber, was built in the summer of 2019 in the 900 sector of the Esplanade, on the edge of Sherbrooke Street. It is the first permanent facility of its kind to be installed on an existing Olympic site.
This skate park, consisting of a concrete bowl with a surface area of 900 m2, hosted the event Vans Park Series, in July 2019, bringing together some of the best male and female skateboarders in the world for a weekend. Conceived and designed by Vans in collaboration with California Skateparks, a company with over 100 similar projects around the world, this new facility ranks among the best places to skateboard in Canada.
From August 2020 to June 2021, the Olympic Park will carry out phase 2 of the Vans skatepark development. During this second and final phase, a street course (modules, ramps) as well as several architectural elements were developed to enhance the user experience. The water fountains adjacent to the Vans skate park sector were also rehabilitated.
SKATEBOARDING CLASSES AT THE ROLLIN STORE
Starting in August, skateboarders will be able to take advantage of a brand new offer of skateboarding lessons.
The courses are for beginners as well as experts and are offered in private, semi-private or group formula by the Boutique Rollin, a local business specialized in skateboards, located in the Hochelaga district. Boutique Rollin will also be renting and selling items on the Esplanade, such as skateboards, helmets, protective pads and more, in a container near the Vans skateboard park.
To register for classes or for more information, click here.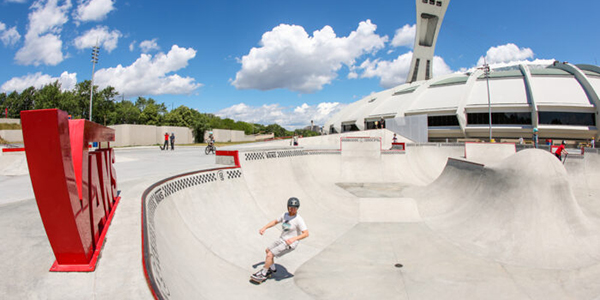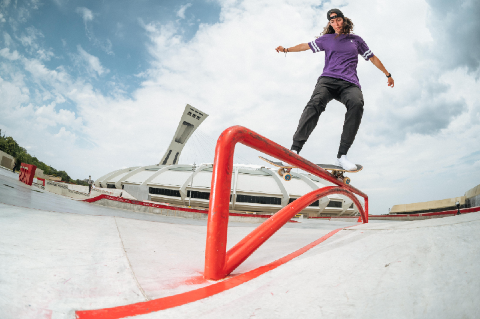 Underground parking lot P4 located at 4200 Sherbrooke Street E.

The Esplanade is located above the Pie-IX metro station, on the green line, and near the 97, 139 and 439 bus stop.
Calculate my journey : stm.info

Bicycle access via the Rachel Street, Maisonneuve Park and Bennett Street bike paths. Bike racks are available a few meters from the entrance, as well as in the P2 parking lot. A BIXI station is located on Pierre-De Coubertin Avenue, near the Pie-IX metro station.

Access for people with reduced mobility
The Esplanade is accessible to persons with limited mobility. Wheelchair accessible washroom facilities are located at the entrance to the administrative offices at 4141 Pierre-De Coubertin Avenue.
---