URBAN ROCKS
Publié le 23 August 2021
Free access
Esplanade

On the Esplanade of the Olympic Park, near Pie-IX boulevard, two huge granite blocks offer the public the possibility to practice climbing.
Open to enthusiasts of all levels, each block offers a variety of natural and improved lines with ratings ranging from V2 to V10+. A application Android is also available to accompany climbers by identifying the climbing routes for each rock.
Bring your climbing mats, shoes, chalk, blankets, food and drinks and come climb these urban blocks!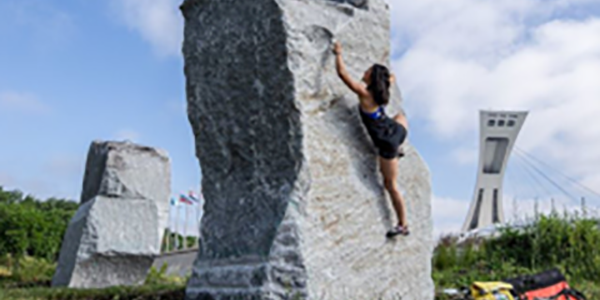 Underground parking P2 located at 4141 Pierre-De Coubertin Avenue.

The Esplanade is located above the Pie-IX metro station, on the green line, and near the stop of buses 97, 139 and 439.
Calculate my route: stm.info

Bicycle access via the Rachel Street, Maisonneuve Park and Bennett Street bike paths. Bike racks are available a few meters from the entrance, as well as in the P2 parking lot. A BIXI station is located on Pierre-De Coubertin Avenue, near the Pie-IX metro station.

Access to people with reduced mobility
The Esplanade is accessible to persons with limited mobility. Wheelchair accessible washroom facilities are located at the entrance to the administrative offices at 4141 Pierre-De Coubertin Avenue.
---