Activity
Free acces
Near the entrance of the sports center and the Desjardins offices
Powered by Common Area, the outdoor telecommuting area is accessible free of charge. The facility is specifically designed to allow for outdoor telecommuting and includes access to WiFi, electricity and lighting.
The telework area allows citizens to gather, work and enjoy the outdoors in a safe and secure environment. It is also suitable for social distancing measures and can accommodate 2 people in social distancing or 6 people in regular time.
Schedule
Daily: 7 a.m. to 10 p.m.
June 21 to mid-October 2021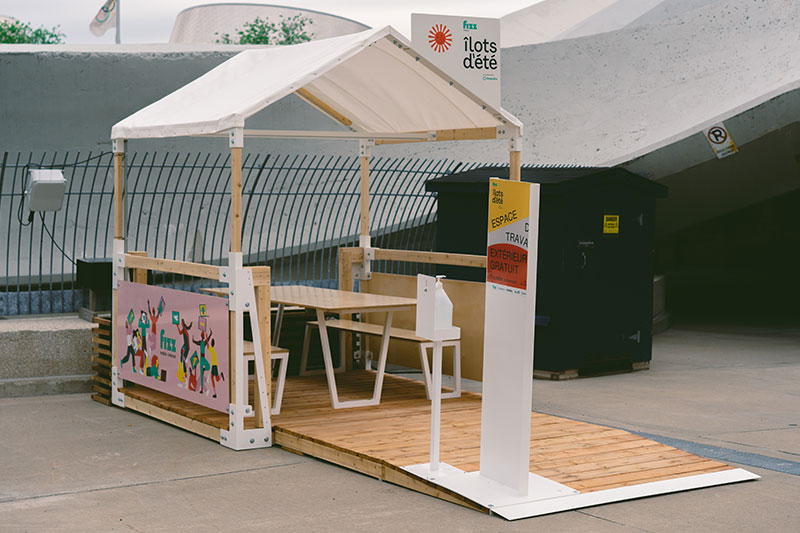 Parking P6 located at 3000 Viau Street, Montreal, QC H1V 3J3

The Esplanade is located above the Pie-IX metro station, on the green line, and near the 97, 139 and 439 bus stop.
Calculate my journey : stm.info

Bicycle access via the Rachel Street, Maisonneuve Park and Bennett Street bike paths. Bike racks are available a few meters from the entrance, as well as in the P2 parking lot. A BIXI station is located on Pierre-De Coubertin Avenue, near the Pie-IX metro station.

Access for people withreduced mobility
The Esplanade is accessible to persons with limited mobility. Wheelchair accessible washroom facilities are located at the entrance to the administrative offices at 4141 Pierre-De Coubertin Avenue.