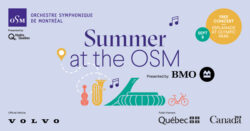 Esplanade
Free access with registration

On September 9, don't miss Rafael Payare, the OSM's new Music Director, at a unique concert free or charge on the Esplanade at Olympic Park! This first public event since Maestro Payare's appointment is a fine opportunity to hear him conduct some of the repertoire's most brilliant gems: Tchaikovsky's famous Overture to Romeo and Juliet, Stravinsky's majestic Firebird, as well as dancing, shimmering works by Falla and Ginastera.
Program :
Tchaikovsky, Roméo et Juliette, Overture-Fantaisia (19 min.)
Lili Boulanger, D'un matin de printemps (Of a Spring Morning, 5 min.)
Falla, El sombrero de tres picos [The Three-Cornered Hat], Suite no. 2 (12 min.)
Ginastera, Estancia, Suite, op. 8a (13 min.)
Stravinsky, The Firebird, Suite (1919, 20 min.)
This concert will be presented in compliance with sanitary measures in effect on September 9.
For your access to this first meeting between Rafael Payare and the public, you can register on this page starting September 3. Registrations are on a first come, first served basis! Stay tuned!