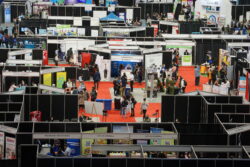 October 13-14, 2022
Olympic Stadium
Free admission
The National Job Fair is the largest recruitment event in Canada with an average attendance of 300 exhibitors. Companies in Greater Montreal, all regions of Quebec and elsewhere in Canada with thousands of job offers, training programs and employability services to all candidates with the most sought after and most rewarding advantages: meeting in person, face-to-face contact.
Jobs in all sectors. A conference program. Several regions of Quebec featured. Special programs for regional recruitment and for immigrants. This is career promotion at its best in all professional and technical fields across the province. Take this opportunity to showcase your skills or enrich your knowledge!
Schedule
Thursday, October 13 : 9 am to 6 pm
Friday, October 14 : 9 am to 5 pm
For more information, visit the event website.



By car
P1 underground parking located at 4545 Pierre-De-Coubertin ave. or
P2 located at 4141 Pierre-De-Coubertin ave.


By active transportation
Bike access via bike paths located on Rachel street, Maisonneuve Park and Bennett street. Bike racks are available just steps from the Centre's entrance. There's also a Bixi station on Pierre-de-Coubertin avenue, near Pie-IX Metro station.


Public transport
A 2-minute walk from Pie-IX metro station (green line) as well as stops for busses 97, 139 and 439.


Access for people with reduced mobility
The Stadium is accessible to people with reduced mobility, and sanitary facilities have been adapted to accommodate anyone who uses a wheelchair.