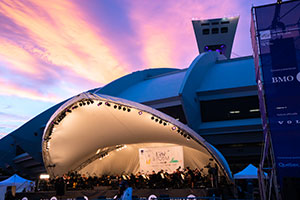 August 10th
Esplanade
Free access
Rafael Payare and the OSM summon you to the Olympic Park's Esplanade to celebrate the richness of great music that has echoed across American lands, from Canada to Venezuela, for many centuries. Join soloists and artists from throughout the Americas on a timeless, breathtaking voyage from the "New World" Symphony to an Indigenous song, and from West Side Story to Cuban composer Paquito D'Rivera's Trumpet Concerto.
Programming
Dvořák, Symphony no. 9 in E minor, op. 95, "From the New World": I. Adagio—Allegro (9 min)
Reading of a text by Natasha Kanapé Fontaine
Song performed by Jeremy Dutcher
Paquito D'Rivera, Concerto Venezolano, for trumpet and orchestra (18 min)
Bernstein, West Side Story, danses symphoniques (20 min)
André Prévin, Honey and Rue: "The town is lit" (5 min)
Evencio Castellanos, Santa Cruz de Pacairigua (17 min)
Schedule
Wednesday, August 10th, at 7:30 pm



By car
P3 parking located at 2727 Pie-IX boulevard, P1 located at 4545 Pierre-De Coubertin avenue or P2 located at 4141 Pierre-De Coubertin avenue.


By active transportation
Bike access via bike paths located on Rachel street, Maisonneuve Park and Bennett street. Bike racks are available just steps from the Centre's entrance. There's also a Bixi station on Pierre-de- Coubertin avenue, near Pie-IX Metro station.


Public transport
A 2-minute walk from Pie-IX metro station (green line) as well as stops for busses 97, 139 and 439.


Access for people with reduced mobility
The Esplanade is accessible to people with reduced mobility, and adapted sanitary facilities are available at the administration office entrance at 4141 Pierre-De-Coubertin ave. for anyone who uses a wheelchair.