Sisyphe, A marathon performance by Victor Pilon
September 28 to October 27
East Hall, Olympic Stadium
Free access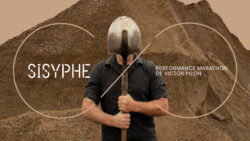 Between September 28 and October 27, multidisciplinary creator Victor Pilon will embark on the first solo performance of his career: Sisyphus, a Marathon Performance. This piece is presented by Lemieux Pilon 4D Art, with the support of the Olympic Park and the Montreal Museum of Fine Arts (MMFA), and will take place in the Olympic Stadium's Est Hall.
The performance is inspired by the Myth of Sisyphus, by Camus. For 30 days, 6 days a week, 7 hours a day, Victor will move 50 tons of sand by tirelessly building and deconstructing a mountain using a simple shovel. It is a physical, emotional, and mental performance where authenticity, absurdity, and reality meet.
For more information, visit the Website
Mandatory vaccine passport
SCHEDULE
September 28 to October 27
To get there



By car
Underground parking P1 located at 4545 Pierre-De Coubertin Avenue or P2 located at 4141 Pierre-De Coubertin Avenue.


By active transport
Bicycle access via the Rachel Street, Maisonneuve Park and Bennett Street bike paths. Bike racks are available a few meters from the entrance, as well as in the P2 parking lot. A BIXI station is located on Pierre-De Coubertin Avenue, near the Pie-IX metro station.


By public transport
A two-minute walk from the Pie-IX metro station, on the green line, and from the 97, 139 and 439 bus stop.
Access for people with reduced mobility
The Olympic Stadium is accessible to people with limited mobility. The sanitary facilities are also adapted for people in wheelchairs.