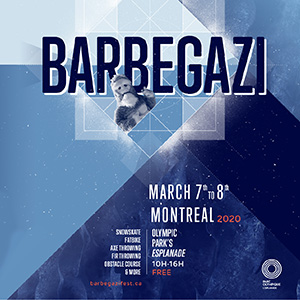 March 7-8
Esplanade

A true winter sports celebration, BARBEGAZI offers Montrealers an opportunity to avoid the winter blues by letting them discover fun outdoor activities, no matter how low the thermometer goes! Try out snowskating, fatbiking, axe-throwing and more on march 7-8 2020 at the Olympic Park's Esplanade!



By car
P2 located at 4141 Pierre-De-Coubertin ave.


By active transportation
Bike access via bike paths located on Rachel street, Maisonneuve Park and Bennett street. Bike racks are available just steps from the Centre's entrance. There's also a Bixi station on Pierre-de- Coubertin avenue, near Pie-IX Metro station.


Public transport
A 5-minute walk from Viau metro station (green line) as well as stops for busses 34, 125 and 439.


Access for people with reduced mobility
The Esplanade is accessible to people with reduced mobility, and adapted sanitary facilities are available at the administration office entrance at 4141 Pierre-De-Coubertin ave. for anyone who uses a wheelchair.