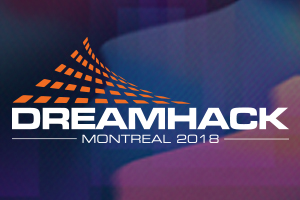 September 7-9

DreamHack, the world's largest digital festival, is coming to the Montreal Olympic Stadium September 7-9, 2018. This will be DreamHack's second stop in its 2018 North American tour. This year's festival features: professional PC/console esports competitions with hundreds of thousands in prizes on the line, a 24 hour-a-day LAN party, tournaments open to the public, tabletop games, freeplay gaming zones, indie games, expo hall, cash prize cosplay competition. There's something for everyone at DreamHack! Tickets start at just $30 for a day pass here.
Buy your tickets at parcolympique.ticketpro.ca



By car
P1 underground parking located at 4545 Pierre-De-Coubertin ave. or
P2 located at 4141 Pierre-De-Coubertin ave.
Monthly rate available.
Regular rate: $19 per day (or $20 during events at the Stadium)


By active transportation
Bike access via bike paths located on Rachel street, Maisonneuve Park and Bennett street. Bike racks are available just steps from the Centre's entrance. There's also a Bixi station on Pierre-de-Coubertin avenue, near Pie-IX Metro station.


Public transport
A 2-minute walk from Pie-IX metro station (green line) as well as stops for busses 97, 139 and 439.


Access for people with reduced mobility
The Stadium is accessible to people with reduced mobility, and sanitary facilities have been adapted to accommodate anyone who uses a wheelchair.