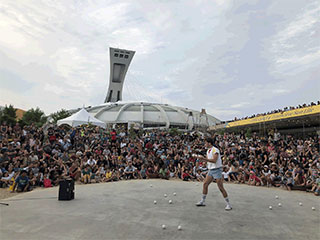 July 12
Free
Esplanade

A circus night in the shadow of the Stadium! Enjoy the very friendly Jardineries to laugh at Côté Confiture from the adorable Kif-Kif Sisters, play the acrobat in the participative structures of the Moulinà vent company and let yourself be seduced by acrobatic impromptu.
A trio of acrobatic workers will also be there to present the latest advancements in the construction industry!
In a festive atmosphere, Le Moulin à vent sets up its unique acrobatic structures giving residents of all ages a chance to play acrobat!
Spinning around the greasy pole, becoming a trapezist, a wire walker, or winning a Hula-Hoop contest standing on the shoulders of a ringmaster … the audience is an instant star here!
Schedule
Friday July 12 – 5:30 PM to 8:30 PM
Côté confiture – 7h00 PM



By car
P1 underground parking located at 4545 Pierre-De-Coubertin ave. or P2 located at 4141 Pierre-De-Coubertin ave.


By active transportation
Bike access via bike paths located on Rachel street, Maisonneuve Park and Bennett street. Bike racks are available just steps from the Centre's entrance. There's also a Bixi station on Pierre-de- Coubertin avenue, near Pie-IX Metro station.


Public transport
A 5-minute walk from Viau metro station (green line) as well as stops for busses 34, 125 and 439.


Access for people with reduced mobility
The Esplanade is accessible to people with reduced mobility, and adapted sanitary facilities are available at the administration office entrance at 4141 Pierre-De-Coubertin ave. for anyone who uses a wheelchair.