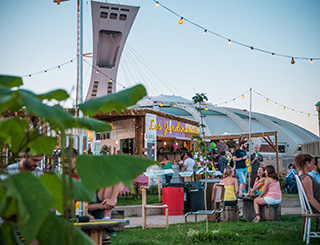 July 19 to October 12
Free
Esplanade

A large urban garden, illuminated patio, greenhouse, circular beach, games, and an open-air café—it's all part of Les Jardineries, where greenery and garden furniture meet entertainment and education. This event unveils the full potential of the Stadium's iconic site, while creating a lasting legacy for the surrounding Mercier–Hochelaga-Maisonneuve neighbourhood.
Schedule
Thursday: 4 p.m. to 9 p.m. (canteen only)
Friday: 4 p.m. to 11 p.m. (pizza oven and canteen)
Saturday: 4 p.m. to 11 p.m. (flexible hours according to activity, pizza oven open according to activity, canteen open)
Park schedule
Monday to Wednesday: 9 a.m. to 9 p.m.
Thursday to Sunday: 9 a.m. to 11 p.m.



By car
P1 underground parking located at 4545 Pierre-De-Coubertin ave. or P2 located at 4141 Pierre-De-Coubertin ave.


By active transportation
Bike access via bike paths located on Rachel street, Maisonneuve Park and Bennett street. Bike racks are available just steps from the Centre's entrance. There's also a Bixi station on Pierre-de- Coubertin avenue, near Pie-IX Metro station.


Public transport
A 5-minute walk from Viau metro station (green line) as well as stops for busses 34, 125 and 439.


Access for people with reduced mobility
The Esplanade is accessible to people with reduced mobility, and adapted sanitary facilities are available at the administration office entrance at 4141 Pierre-De-Coubertin ave. for anyone who uses a wheelchair.