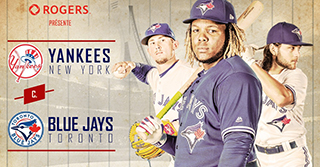 March 23-24
Olympic Stadium

The Blue Jays will host the Yankees for the final two Spring Training games leading up to the 2020 regular season. The series showcasing the AL East rivals will provide yet another exciting opportunity for Montreal baseball fans to reconnect with Major League Baseball. Some of the game's brightest young stars made their big league debuts with the Blue Jays in 2019, with more top prospects set to join the team next season.
Buy your tickets at parcolympique.ticketpro.ca



By car
P2 underground parking located at 4141 Pierre-De-Coubertin ave.


By active transportation
Bike access via bike paths located on Rachel street, Maisonneuve Park and Bennett street. Bike racks are available just steps from the Centre's entrance. There's also a Bixi station on Pierre-de-Coubertin avenue, near Pie-IX Metro station.


Public transport
A 2-minute walk from Pie-IX metro station (green line) as well as stops for busses 97, 139 and 439.


Access for people with reduced mobility
The Stadium is accessible to people with reduced mobility, and sanitary facilities have been adapted to accommodate anyone who uses a wheelchair.