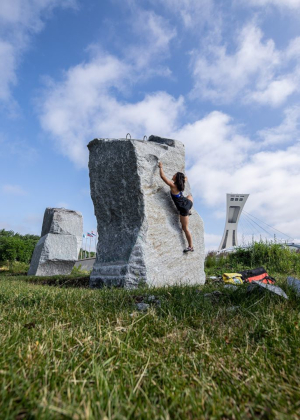 Free
Esplanade

The Olympic Park Esplanade—located just off Pie-IX boulevard—features two giant granite blocks for those who would like to try their hand at climbing. Each block is ideal for novice and expert climbers alike, featuring natural and fixed anchors with climbing grades ranging from V2 to V10+. An Android app is available to help climbers identify climbing routes for each rock.
Pack your crash pad, shoes, chalk, blanket, snacks, and drinks… and come climb these urban blocks!



By car
P2 underground parking located at 4141 Pierre-De-Coubertin ave.


By active transportation
Bike access via bike paths located on Rachel street, Maisonneuve Park and Bennett street. Bike racks are available just steps from the Centre's entrance. There's also a Bixi station on Pierre-de- Coubertin avenue, near Pie-IX Metro station.


Public transport
A 5-minute walk from Viau metro station (green line) as well as stops for busses 34, 125 and 439.


Access for people with reduced mobility
The Esplanade is accessible to people with reduced mobility, and adapted sanitary facilities are available at the administration office entrance at 4141 Pierre-De-Coubertin ave. for anyone who uses a wheelchair.