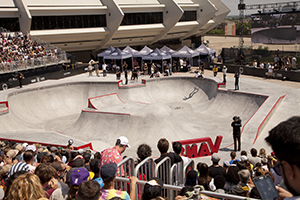 Esplanade
Free access

The Olympic Park Esplanade has just opened a brand new sports facility: the Vans Skatepark. This international-caliber skatepark is located in the 900 section of the Esplanade, near Sherbrooke street, and is the first such permanent facility to be installed at an existing Olympic site.
The 900 m2 concrete dome skatepark recently hosted the Vans Park Series on July 12 and 13, bringing some of the best men and women skateboarders in the world together for a weekend. This new installation was created by Vans in collaboration with the California Skateparks company, which has designed hundreds of such parks around the world. The Stadium's Vans Skatepark is one of the best places in Canada for skateboarders to practice their sport.
Beginners can also enjoy the novice skateboard park located in the Esplanade's 800 section.
The Vans Skatepark and beginner skatepark are available to the general public as of Saturday July 20 at noon.
Opening hours
Monday to Sunday: 7:00 am to 11:00 pm*
*Open until August 3, when the second phase of works will begin to improve the site.



By car
P2 underground parking located at 4141 Pierre-De-Coubertin ave.


By active transportation
Bike access via bike paths located on Rachel street, Maisonneuve Park and Bennett street. Bike racks are available just steps from the Centre's entrance. There's also a Bixi station on Pierre-de- Coubertin avenue, near Pie-IX Metro station.


Public transport
A 5-minute walk from Viau metro station (green line) as well as stops for busses 34, 125 and 439.


Access for people with reduced mobility
The Esplanade is accessible to people with reduced mobility, and adapted sanitary facilities are available at the administration office entrance at 4141 Pierre-De-Coubertin ave. for anyone who uses a wheelchair.