Activity
Free access
Near the Saputo stadium and Sherbrooke street
In the 1950s, in the section of Maisonneuve Park where the Olympic Park now stands, Morgan hill sat between Sherbrooke Street, Viau Boulevard, Boyce Avenue, and Desjardins Street. It was a popular spot for locals to enjoy a wide range of winter activities, from skiing to luge.
Morgan hill was refurbished in 2020, and now offers a new walking trail that links the Olympic Park to Maisonneuve Park. It has been named the Morgan Path in honour of the hill's importance to our city's heritage.
The walking path features beautiful views of the Tower and Monteregian Hills, as well as a circuit of outdoor fitness equipment.
Opening Hours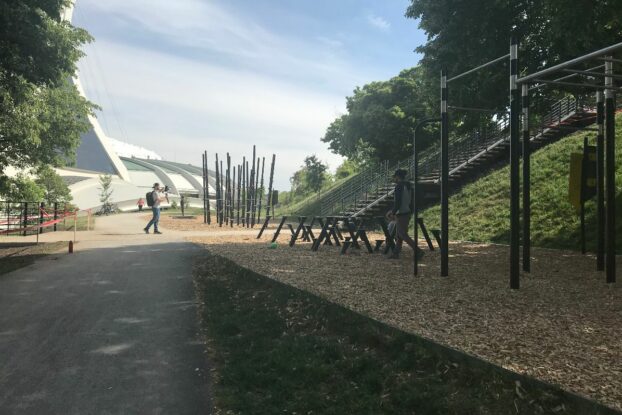 Underground parking lot P4 located at 4200 Sherbrooke Street

The Esplanade is located above the Pie-IX metro station, on the green line, and near the 97, 139 and 439 bus stop.
Calculate my journey : stm.info

Bicycle access via Rachel Street, Maisonneuve Park and Bennett Street bike paths. Bike racks are available a few meters from the entrance and in the P2 parking lot. A BIXI station is located on Pierre-De Coubertin Avenue, near the Pie-IX metro station.

Access for people with
reduced mobility
The Esplanade is accessible to persons with limited mobility. Wheelchair accessible washroom facilities are located at the entrance to the administrative offices at 4141 Pierre-De Coubertin Avenue.