Events
OSM concert – The museum to opera arias with Rafael Payare
August 16, 2023
Esplanade
Free access
Two internationally acclaimed soloists join the OSM for the 2023 Classical Spree's inaugural concert. Isabel Leonard will sing a selection of celebrated opera arias and violinist Bomsori will perform Waxman's sultry and impassioned Carmen Fantasie based on Bizet's operatic masterpiece. A short trip from the opera house to the museum will have us gaze upon Mussorgsky's Pictures at an Exhibition. Through this powerful and vibrantly coloured work, the composer will transport us from the fantastic world of legend to the great cities of Europe. A concert to unleash the imagination!
Schedule
For more information, visit the event Website.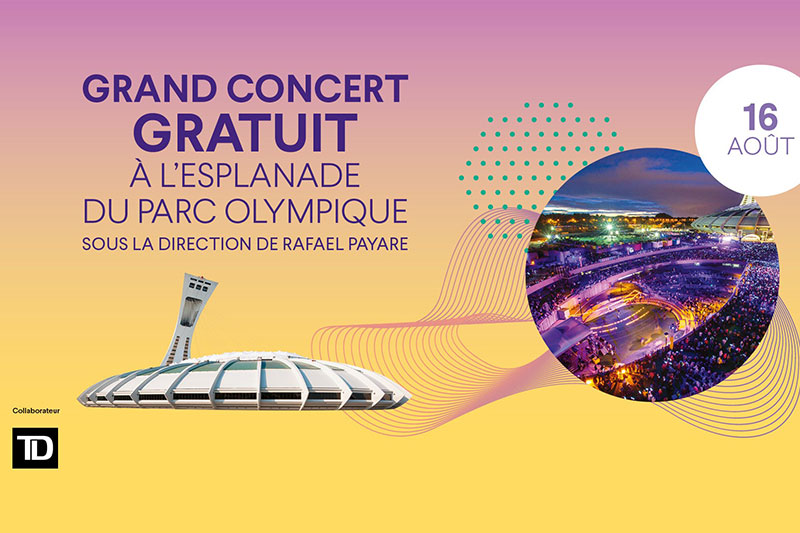 By car
P1 underground parking located at 4545 Pierre-De-Coubertin ave. or P2 located at 4141 Pierre-De-Coubertin ave.

By active transportation
Bike access via bike paths located on Rachel street, Maisonneuve Park and Bennett street. Bike racks are available just steps from the Centre's entrance. There's also a Bixi station on Pierre-de- Coubertin avenue, near Pie-IX Metro station.

Public transport
A 5-minute walk from Viau metro station (green line) as well as stops for busses 34, 125 and 439.

Access for people with reduced mobility
The Esplanade is accessible to people with reduced mobility, and adapted sanitary facilities are available at the administration office entrance at 4141 Pierre-De-Coubertin ave. for anyone who uses a wheelchair.