Events
World Aquatics – Diving World Cup – Montreal 2023
May 5 to 7, 2023
Olympic Park Sports Centre
Free access and paid access
In 2023, Montreal will host its very first Diving World Cup. This circuit has replaced the Diving World Series as the most popular and important competitive diving series in the world. In 2023, three stages will be organised. The hosts are China, Canada and Germany.
The competition program will include individual events on 1m, 3m and platform, synchronized events on 3m and 10m and a mixed team event. This is a senior competition that allows divers aged 14 and over to participate, provided they have achieved the point standard set by World Aquatics (AQUA), the international federation for water sports including diving.
Diving Plongeon Canada (DPC), the national diving federation in Canada, has decided to play a lead role in the organization and presentation of the competition, with Plongeon Québec and local clubs acting as core members of the organizing committee. Accordingly, the mission and main objectives of the national federation will also be the guiding principles of the organizing committee.
Schedule
May 5: Finals: 15:00 pm | Doors opening: 2:15 pm
May 6: Finals: 15:00 pm | Doors opening: 2:15 pm
May 7: Finals: 9:30 am | Doors opening: 9:00 am
The preliminary rounds are free to the public. The final rounds require your ticket at the entrance.
Parking ticket
3 day parking pass
For more information, visit the event Website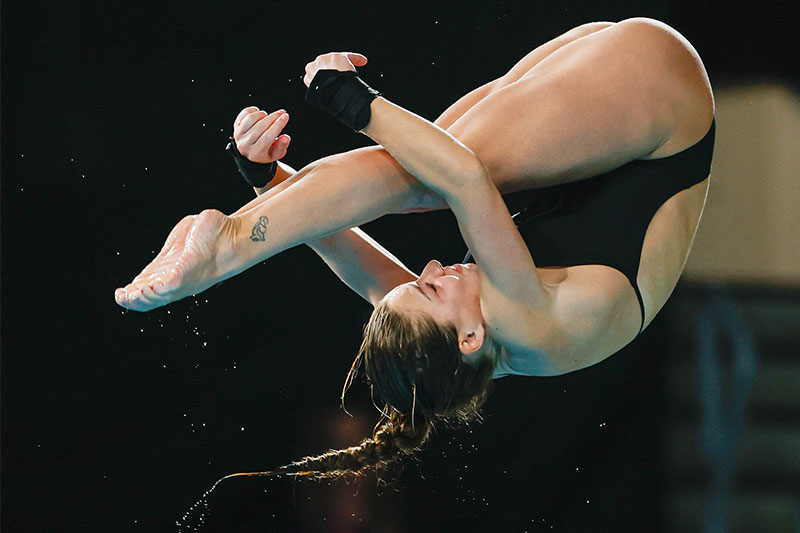 By car
Underground parking P5 located at 3200 Viau street.

By active transportation
Bike access via the cycle paths of Rachel Street, Maisonneuve Park and Bennett Street. Bike racks are available a few meters from the entrance. A Bixi station is located on Pierre-de Coubertin avenue.

Public transport
Five minutes walk from Viau metro station, on the green line, and from the 34, 125 and 136 bus stop.

Access for people with reduced mobility
The Sports Centre is accessible to people with reduced mobility. The sanitary facilities are also suitable for people in wheelchairs.