Acces to the Olympic Stadium for the Impact games on the 26th and 29th february
Publié le 20 February 2020
Ticket holders for the Montreal Impact games on February 26 or 29 can access the Olympic Stadium at 4545 Pierre-De Coubertin Ave. or the Pie-IX subway station.

Spectators arriving by the Pie-IX metro will be able to use the inside lane leading to the Rotunda or exit on Pierre-De Coubertin to access the Stadium.
How to get to the Stadium for the February 26 and 29 Impact games
For public transit users: two subway stations serve the Olympic Stadium (Pie-IX and Viau). As soon as you arrive at the Pie-IX metro station, you will be able to access the Olympic Stadium from the interior corridor or the exterior exit, following the signs to the Olympic Stadium. Search points will be available at the metro exit and also outside, at 4545 Pierre-De Coubertin Avenue.
For motorists, please note that Pie-IX Boulevard is partially obstructed in both directions, between Sherbrooke Street and Metropolitan Boulevard.
Please note that all parking lots in the Olympic Park are open except for P1 (4545 Pierre-De Coubertin Ave.), which is closed for renovations. Motorists are invited to use parking P2, located on Pierre-De Coubertin Avenue, as well as P3 located on Pie-IX Boulevard and P4 on Sherbrooke. A tip: head immediately to the P3 Pie-IX and P4 Sherbrooke parking lots to avoid long line-ups, and opt for contactless payment or credit card to speed up the process. The search will take place before entering the Rotunda.
See the map below for all the details on how to get to the Olympic Stadium.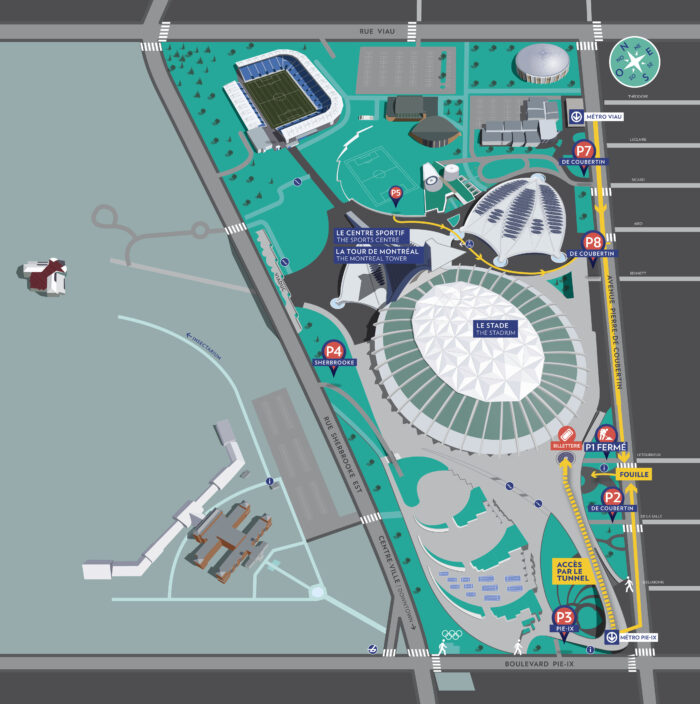 Please also note that the Olympic Park will not take any deposits and that entry inside the enclosure is final. No re-entry is possible once the ticket holder has been admitted, as required by security protocols for major stadiums in North America.
---